Dive into true connection in touch and words. We work with two deep practices of compassion that touched our hearts: Thai Massage and Non-Violent Communication. Both traditions teach us how to be with ourselves first, create a healing space and see the other person fully. It is all about listening and accepting what is there so magic can happen. You will leave this weekend nourished, relaxed and empowered with new tools to practice in your daily life.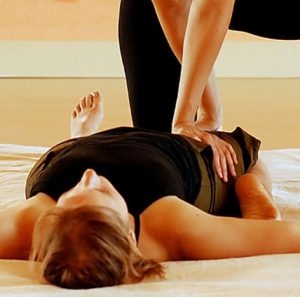 In this weekend you will learn principles of Non-Violent Communication, in an embodied and realistic way: less theory and more experiencing! In the Thai Massage, we integrate the experiences. Is is not necessary to have practiced either NVC or Thai Massage before.
---
Location
We stay at camping site "Tussen Hemel en Aarde", located in the middle of the Netherlands. You can camp in your own tent and there is a beautiful and light workshop area. In the free time, you can take a walk and even swim!
---
Food
You will be nourished with delicious, healthy food that is made with love! All foods will be vegetarian with vegan options. We are happy to cater for allergies, please let us know before.
---
Investment
With Early Bird discount (paid before 30th of June): 150,- for low incomes, 170,- for regular incomes
Normal Price (after 1st of July): 175,- for low incomes, 195,-  for regular incomes.
Food and accommodation are included!
Refunds: if you cancel before 30th of June, you will get a 80% refund. After this, there are no refunds given. You can pass your ticket to someone else though!
---
Registration
Fill in the form on our acro flow site. Then we will send you a payment link. Your registration is complete after payment.